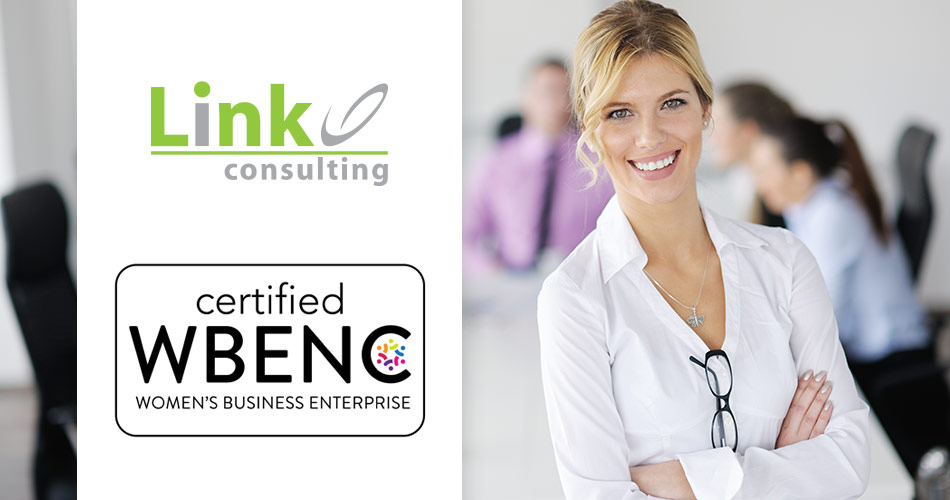 Link Consulting Services Certified by the Women's Business Enterprise National Council
Orange County Based, Inc. 5000 Ranked Staffing Firm Certified as Woman-Owned Business
Newport Beach, California – November 11, 2020 – Link Consulting Services is proud to announce national certification as a Women's Business Enterprise (WBE) by the Women's Business Enterprise Council – West Certification Committee, a regional certifying partner of the Women's Business Enterprise National Council (WBENC).
A global staffing services and recruitment consulting company specializing in technology experts, executive search, business leadership, and diversity recruitment for Fortune 500 companies, Link Consulting Services was founded by female CEO Natalia Sans in 2005. Under her leadership, the company has grown into an Inc. 5000 ranked organization with three-year revenue growth of 491%.
"Becoming certified as a WBE is a huge accomplishment for our team," said Sans. "As a woman-owned business serving Fortune 500 companies, many of them within the male-dominated technology space, Link Consulting Services provides a unique and authentic perspective on recruiting diverse candidates and creating more inclusive workplaces. Diversity is part of our DNA and we believe this enables us to better serve our clients and specialists around the world. Link Consulting Services' new WBE status is one more indication of our commitment to promoting greater equality within our company and in clients' recruiting processes."
WBENC's national standard of certification implemented by the Women's Business Enterprise Council – West Certification Committee is a meticulous process including an in-depth review of the business and site inspection. The certification process is designed to confirm the business is at least 51% owned, operated and controlled by a woman or women.
By including women-owned businesses among their suppliers, corporations and government agencies demonstrate their commitment to fostering diversity and the continued development of their supplier diversity programs.
To learn more about Link Consulting Services, please visit www.link-cs.com.
About Link Consulting Services
Link Consulting Services is a global staffing and recruitment consulting organization specializing in executive search, business leaders, technology experts, and diversity recruiting. The company is ranked #945 on the 2020 Inc. 5000 list of fastest-growing privately held companies, and was among the select few to earn ClearlyRated's coveted 2019 Best of Staffing® Client and Talent Awards.
Since 2005, internal Consultants have placed more than 10,000 highly skilled technology leaders and experienced executives in Fortune 500 and industry-leading organizations around the world, leveraging Link Consulting Services' proprietary Recruitment as a Service model and more than 50 years of combined management experience in the recruitment industry. CEO and Founder Natalia Sans serves on the Forbes Los Angeles Business Council. Learn more at www.link-cs.com.
About WBENC
Founded in 1997, WBENC is the nation's leader in women's business development and the leading third-party certifier of businesses owned and operated by women, with more than 13,000 certified Women's Business Enterprises, 14 national Regional Partner Organizations, and over 300 Corporate Members. More than 1,000 corporations representing America's most prestigious brands as well as many states, cities, and other entities accept WBENC Certification. For more information, visit www.wbenc.org.