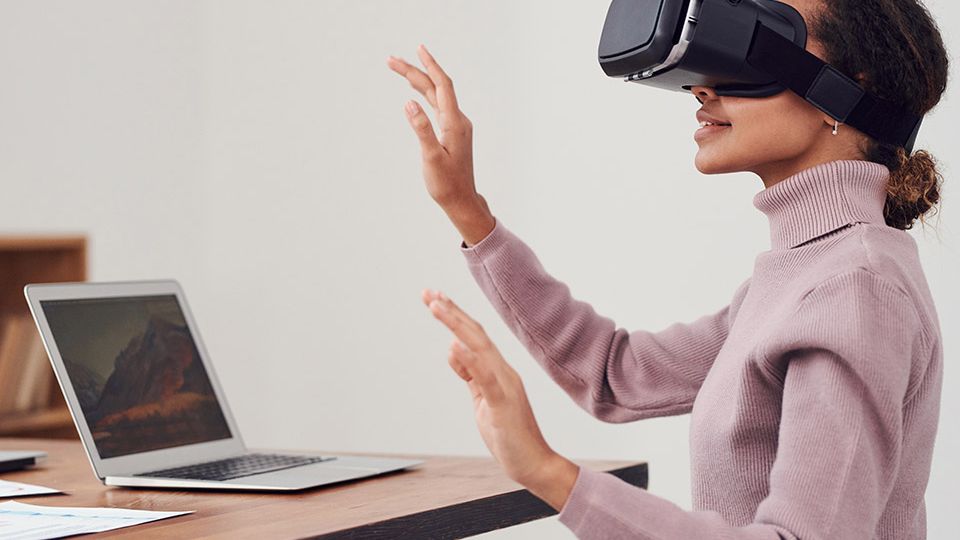 Future of Work: 13 Changes to Prepare For (Part 1)
The workplace is changing at a rapid pace. Even before COVID-19 suddenly stripped millions of their jobs and shifted countless others to working from home, automation, digitization, and the growing gig economy were already disrupting the workplace status quo.
What does the future of work look like in a COVID impacted, technologically advanced world? We're breaking down the 13 greatest trends that are changing the workplace as we know it.
Explore trends #1 through #7 below and follow Link Consulting Services on LinkedIn to see trends #8 through #13.
1. Adoption of automation technologies
The Fourth Industrial Revolution will soon affect every aspect of how we work, from the devices that we use on a daily basis to the number and type of coworkers working alongside us.
Surgical and telemedicine robots are already integrating into the healthcare and manufacturing industries alongside their human counterparts.
Drones are revolutionizing industries such as defense, agriculture, and insurance.
Artificial intelligence-driven software is leveraging data to make machines simulate certain elements of human behavior, for example, Amazon Alexa and Google Assistant orally answering questions in real time
Gartner predicts that by 2024, enterprises will decrease operational costs by 30% by combining hyperautomation technologies with redesigned operational processes.
2. Embracing digitalization and digital transformation
First things first: what is digital transformation and how does it differ from digitalization?
Digitalization is "the use of digital technologies to change a business model and provide new revenue and value-producing opportunities; it is the process of moving to a digital business." (Gartner)
Digital transformation is the cultural, organizational, and operational change of an organization, industry, or ecosystem through the smart integration of digital technologies, processes, and competencies. (Learn more in "Five Ways to Prepare Your Company for Digital Transformation," an article written by Link Consulting Services CEO Natalia Sans.)
According to Deloitte, enterprises that embrace digital transformation tend to outperform less digitally mature enterprises on key financial metrics. Due to these benefits, industry leaders were already embracing digitalization and digital transformation prior to the COVID-19 pandemic, but many organizations still did not consider it an urgent need.
That changed at the start of the pandemic when enterprises shifted employees to remote work. Leaders rushed to embrace digital transformation in order to ensure employee productivity and maintain customer service. In April 2020, Microsoft CEO Satya Nadella said, "We've seen two years' worth of digital transformation in two months." By the looks of it, this upward trend will only continue.
3. Hybrid/flexible work models for certain professionals in first-world countries
"Brilliant talent exists all across the globe. Unfortunately, opportunity does not. We can revitalize communities by distributing opportunity instead of wealth, and tap into great diverse talent while we do so." – Barbie Brewer, CEO and Founder, TNT Consulting, LLC; Former Interim Chief People Officer, Sprout
When COVID-19 hit, many organizations that had previously required face-to-face interaction suddenly were forced to embrace collaboration over Zoom, Slack, and email. The results were surprising.
According to PwC's US Remote Work Survey, the majority of executives (52%) believe that employees have been more productive after the switch to remote work, compared to before the pandemic.
34% of employees say the same, compared to 28% pre-pandemic.
More than 80% of employers claim remote work has been a success compared to 73% in PwC's June 2020 survey.
79% of employees say that working from home has been a success and allowed them the flexibility to manage family responsibilities.
Overall, more than half of employees want to work from home (WFH) at least three days a week even after the pandemic is over. Yet, 68% of executives believe team members should work in the office at least three days a week to promote company culture. Nearly 90% say that in-office interactions help with team collaboration and building relationships.
Old attitudes about remote work clearly die hard, and trying to balance employee engagement, work-life balance, worker productivity, and company culture will cause friction when the pandemic winds down. For many organizations, things will never go back to pre-pandemic norms; they will offer hybrid scheduling that splits working days between the office and home.
Also, it is important to remember that while much attention has been paid to WFH employees, a significant portion of the workforce does not have the ability to work remotely. WFH is much more common in first-world countries and mostly within certain sectors, including finance, management, professional services, and information technology. In developing countries and other industries, such as retail, the number of WFH employees is significantly lower.
4. Greater emphasis on cybersecurity… or else
Forget bring your own device (BYOD) policies, WFH has made using personal devices the new normal. While some companies were able to provide employees with company laptops and other technology, most were surprised by stay-at-home orders and did not have the time or resources to equip WFH workers. As demand for computers rose and the semiconductor shortage limited supply, many at-home workers were stuck with personal computers, phones, and WiFi networks to conduct business.
Compared to company-provided devices, personal devices are frequently less protected. They are not secured by the company's IT department and may have out-of-date software, poor or nonexistent anti-virus software, and use unprotected WiFi networks.
Additionally, because employees use the same devices for personal and business activities, their behavior off the clock – such as clicking on a phishing link or visiting insecure websites – can impact business security. Even if employees are careful to abide by company security practices, they can be compromised by family members or housemates who share the same WiFi network.
All in all, remote employees present a significant risk to an organization's sensitive customer information, intellectual property, reputation, and finances. Leaders must take action to prevent unprecedented breaches and fraud.
5. Smaller, less expensive offices
Real estate has been a mixed bag during the pandemic.
What does this all mean for the future of offices? In the near term, experts say that things could get worse before they get better. Deloitte suggests that expected demand for retail, hotel, and office spaces may decline by double digits through mid-2022, though Cushman & Wakefield predicts a complete recovery by 2025.
As explained above, the majority of employees want to work remotely at least three days a week even after the pandemic ends, although senior leaders believe that in-office interactions are essential to building relationships and a cohesive company culture. Many companies will keep office spaces to facilitate in-person interactions, but will choose to downsize since fewer people will need to be in the office at one time. Others may decide to move to a different market, from costly hubs like New York and San Francisco to lower cost of living states such as Texas and Idaho.
Lastly, some organizations may pursue more flexible office solutions such as doing away with local offices and allowing employees to work from shared office spaces such as WeWork locations when not working from home – though this will be less common than the other solutions listed above.
6. Translating in-office perks to WFH
When employees began working from home, they lost access to ergonomic chairs, standing desks, fast internet, gym memberships, and company lunches and get-togethers. Some of these might be just perks but others are necessary for productivity. Expect people leaders who head permanently remote teams to offer benefits tailored to WFH wellbeing and effectiveness, such as:
Internet and/or phone expense reimbursement
Subsidies to purchase necessary office equipment, such as a comfortable office chair and ergonomic keyboard
High-quality webcams and/or microphones to enable frustration-free video meetings
Wellness funds to purchase audiobooks, meditation apps, and exercise classes
7. Heightened focus on health standards for in-person employees
For the millions of American workers who must work in person, health and safety standards will remain a top concern moving forward. Organizations will share many of these concerns until COVID-19 vaccination rates significantly decrease the risk of illness to employees, leading to precautions and offerings such as:
Staggered or shift schedules, where only a portion of the workforce is present at any given time;
Redesigned workspaces – no more seas of cubicles or shared break rooms and an emphasis on minimizing or frequently cleaning high-touch areas like doorknobs, tables, and light switches;
Employee protective gear including masks, gloves, and possibly face shields;
Employee temperature checks and/or regular COVID-19 testing;
Better benefits packages that feature sick time and health insurance;
And cultural acceptance of using sick time to ensure contagious employees do not come into the workplace.
Several organizations have already stated that they will pay employees to receive a COVID-19 vaccine, including Amtrak, Chobani, Darden Restaurants, Instacart, Lidl, and Trader Joe's.
Find out what else is coming
Don't forget to follow Link Consulting Services on LinkedIn to see trends #8 through #13 in The Future of Work, Part 2 – coming soon!
About Link Consulting Services
Link Consulting Services is a global staffing services and recruitment consulting organization specializing in executive search, business leaders, technology experts, and diversity recruiting. The company is ranked #945 on the 2020 Inc. 5000 list of fastest-growing privately held companies, and is among the select few to earn ClearlyRated's coveted Best of Staffing® Client and Talent Awards for two consecutive years.
Since 2005, internal Consultants have placed more than 10,000 highly skilled experts and executives in Fortune 500 and industry-leading organizations around the world, leveraging Link Consulting Services' proprietary Recruitment as a Service model and more than 50 years of combined management experience in the recruitment industry. Learn more at www.link-cs.com.